The only IT company exclusively for chiropractors
Get everything you need to keep your practice secure, compliant and running smoothly.
Starting at only $79/mo
The only IT
company just
for chiropractors
Get everything you need to keep your practice secure, compliant and running smoothly. Starting at only $79/mo.
How much is misaligned technology costing you?
When it comes to understanding the technology in your clinic, you may feel lost or even overwhelmed. When your IT systems aren't properly managed…
Your clinic's technology shouldn't be a pain in your neck. Your IT should work for you—fast, efficient and without downtime or distractions.
Get your technology, your staff, and
your clinic…aligned.
Three Steps to a PerfectPractice™
Get your technology, your staff, and your clinic…aligned.
Three Steps to a PerfectPractice™
Start with a free diagnosis.
Our network assessment will help uncover what's working and what isn't. We'll give you a plan to fix what's broken.
Get your clinic adjusted.
Book a date on our calendar and then our team will get to work. We will solve all of your IT problems in less than 48 hours.
Maintenance plans keep you running.
Subscribe to a Chiro360™ Maintenance Plan to keep your clinic secure, compliant, and running smoothly.
Chiro360™ Maintenance Plans
100% Managed for you. Zero contracts.
100% Managed for you.
Zero contracts.
Everything you need to secure and maintain a healthy network.
The easiest way for your clinic to become⎯and stay⎯HIPAA compliant.
Everything in Essentials, plus:
Send PHI and protect your electronic communications with encrypted email.
Everything in Standard, plus:
Chiro360™ Maintenance Plans include 24x7x365 monitoring and management for up to 6 devices. Add additional devices for only $10/mo.
We'll make you believe in magic.
You're too busy to deal with constant IT issues slowing you down.
When your technology doesn't work like it should, everyone suffers. Your staff is stressed and unproductive, patients are in the office longer and these all have an effect on your bottom line.
Our PerfectPractice™ Growth + Alignment Boot Camp will solve all of your IT issues in 48 hours or less. All of this happens entirely outside of patient hours so there isn't a moment of downtime for your clinic!
Imagine yourself sipping Mai Tais on the beach Saturday and coming back to a clinic on Monday that is totally transformed for your success. That's magical.
— SEE HOW WE COMPARE —
We're an IT company that you'll actually love working with.
Your current IT provider doesn't understand how your clinic operates. Their generalized approach is leaving your data unprotected and it's costing you time and money.
Unlike traditional IT companies that use generalized solutions for a hodgepodge of clients, bakerford® only works with chiropractors.
We have helped hundreds of chiropractors just like you, improve the security of their network, become HIPAA compliant and build a practice that is optimized for growth.
From the shores of Hawaii to the Eastern Seaboard of the mainland⎯and everywhere in between⎯bakerford® serves more chiropractors than any other IT company.
bakerford® monitors customer networks 24×7, 365 days a year so you'll never have to wonder whether or not your backups are happening; or if a computer needs rebooted to apply an update.
Switch to bakerford® today to gain confidence and peace of mind knowing that your network⎯and your data⎯is safe and secure so that you never have to worry about IT again.
We believe in fair, transparent pricing and think that every chiropractic clinic should be able to afford the services they need.
Clinics that switch their monthly support services to bakerford® save 40% or more each month, on average.
Our Chiro360™ maintenance plans are always billed month-to-month and you'll never be locked into a contract. This means we have to earn your business each and every day.
Because we serve healthcare clients we are considered a "business associate" which means we're also required to be HIPAA compliant.
A "business associate" is a person or entity that performs certain functions or activities that involve the use or disclosure of protected health information on behalf of, or provides services to, a covered entity.
If your current IT company isn't HIPAA compliant, give us a call to discuss how bakerford® can serve your chiropractic clinic.
Patients aren't just trusting you with their health, they're trusting you with their personal data.
We'll protect your data, and your patients' privacy just like it's our own.
Don't trust any IT company with your patients' data.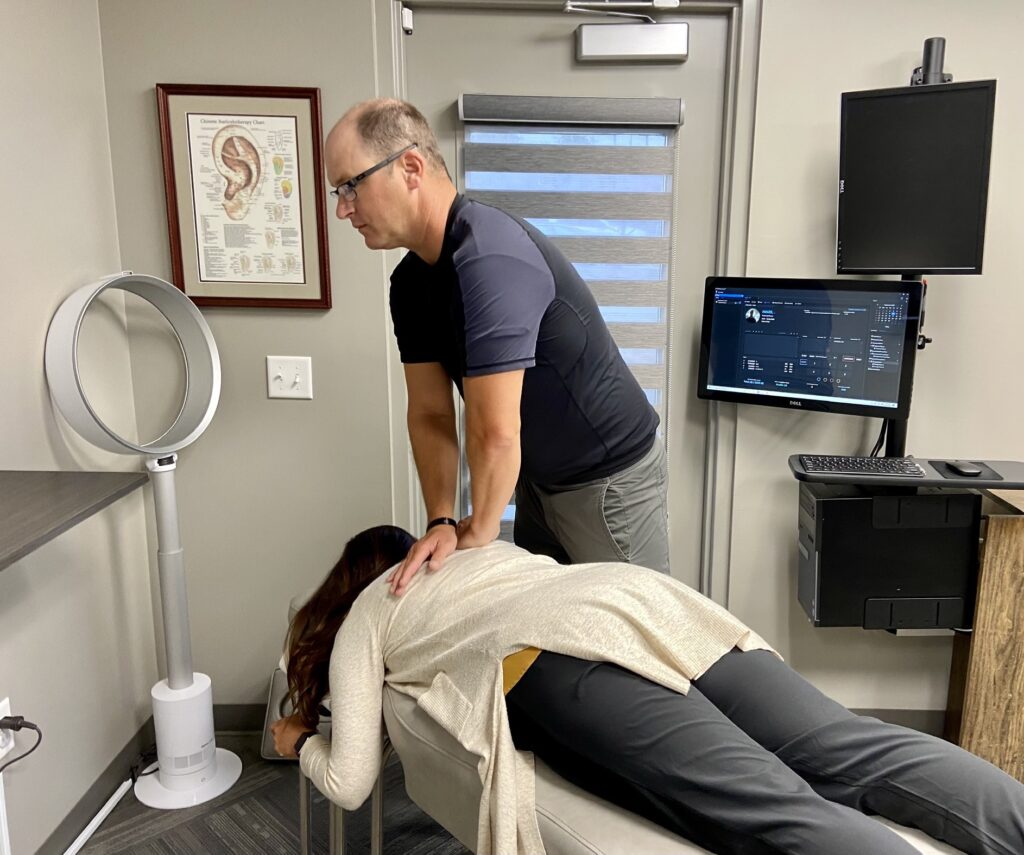 We've got your back.
We know how frustrating it is to run a practice when your technology doesn't work like it should. Or when your IT guys overcharge and under-deliver. We've helped hundreds of chiropractic clinics just like yours align their technology to become more efficient, grow their practice and become more profitable.
When you're ready to make your IT issues disappear for good, let's chat.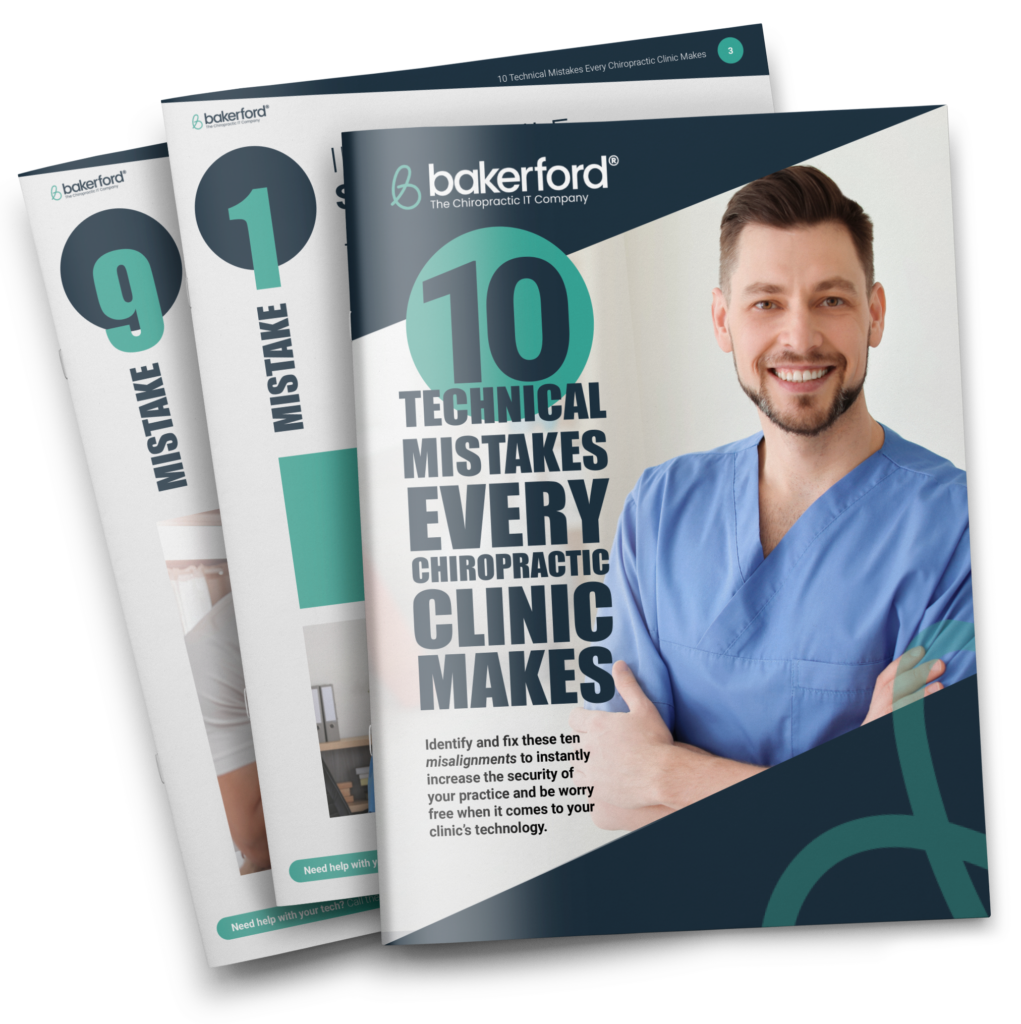 10 Technical Mistakes Every Chiropractic Clinic Makes
Fix these ten "misalignments" to instantly increase the security of your network and become worry-free when it comes to your clinic's technology.